My whole family is coming to me for Christmas.
The food is not so much of a problem.
We have a fantastic butcher nearby in Findlay's of Portobello
1
.
Mr Findlay personally selects all the animals they butcher and they have awards for their haggis. I like Tattie Shaws
2
at the top of Leith Walk whose vegetables which are always incredibly fresh.
The odds and ends will be purchased at Real Foods
3
and the Co-op
4
which I have talked about in previous posts but what can I buy people that is not made or sold by a multinational?
Dad is fine as he wants a particular book, which I can order from an independent bookseller, I mentioned lots of these in the previous post.
The Edinburgh Woolen Mill
5
where I tend to get most of his cardigans, he has arthritis so jumpers are not suitable, is not a multinational, phew!
I previously have got my sister-in-law a subscription to a magazine, Elle Decoration.
This is published by Hearst Magazines
6
, part of the Hearst Corporation
7
which has its own sky scraper in New York, so is a rather large Multinational.
I might cheat and ask Mum to get her this instead so she doesn't do without her magazine.
My brother is a tricky one as he never wants anything but black socks.
He likes black socks so he doesn't need to pair them, as it saves time!
I can't get him socks from Pringle of Scotland
8
as they are owned by a company from Hong Kong but surely I will find non-multinational socks somewhere!
I was also thinking I might get him tools or something from a hardware shop as he is a handyman and loves tinkering at home.
Machine Mart
9
seems to be UK only as does Stax Trade Centres
10
, which have a warehouse beside Easter Road Stadium.
As I anticipated B & Q
11
is a MNC as there is a B & Q in Beijing!
B & Q is part of the Kingfisher Group which has 1,200 stores over Europe trading under various names so I won't be getting him anything out of there.
Mum likes books so although book tokens are a bit boring I could just give her some of them.
She is also a keen on patchwork so I could always get her some material or "fat quarters" as we have at least 5 independent cloth shops in Edinburgh. The ones I have found are The Dress Fabric Company
12
in Bruntsfield, Edinburgh Fabric
13
in St Patricks Square and My Bear Paw
14
on Gilmore Place which sounds fun as it gives classes as well. The final two are Fabric Focus
15
on East Claremont St and The Cloth Shop at 169 Bonnington Rd which I can't reference as it doesn't have a website.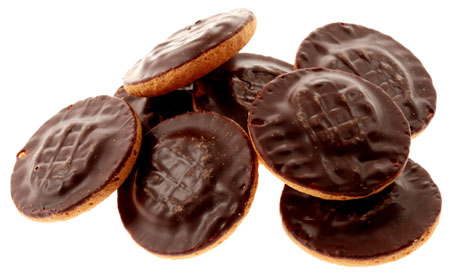 My nieces are problematic at the best of times.
The eldest has a Jaffa cake addiction and I usually get her one of the giant one meter long boxes but McVities
16
are part of United Biscuits which themselves have been part of the Turkish group Yildiz Holding
17
since 2014.
They are both very keen on art so I might ask them what materials they would like. I can't buy them anything by Daler-Rowney18 as they make their brushes in the Domican Republic and own Lukas and Nerchau two German firms, which makes them a multinational. Windsor and Newton19&20 is a multinational too as they have a manufacturing base in Piscataway, New Jersey in the US.
Buying chocolates will be a problem too but I think that deserves a post of its own as it is a subject that is very dear to my heart and stomach. There are a few chocolatiers scattered about Edinburgh and you can get very nice Scottish Turkish delight in unusual flavours in various delicatessens.